Why Digital Agencies Should Create Their Own Products
Savvy recently launched MyGIFValentine, a project we conceived, designed, built, and marketed within a week. Yet it wasn't something we were hired to do. We were our only customer. Here's the story of how we did it but more importantly, why we did it.
Overview of MyGIFValentine
The MyGIFValentine (MGV) service originated as a different Valentine-related idea. The project originated from the desire to relive the childhood nostalgia of Valentine's Day in a modern, digital way. We also wanted to give some of the Savvy team members a fun opportunity to launch an experience related to a holiday. By starting it the week before Valentine's Day, it would also force us to have a hard deadline.

After a day of exploring concepts that we ultimately felt didn't work, we re-focused on a GIF-related idea. MGV became a web app where people could send a Madlib-style message. Each custom input in the message would automatically associate a funny GIF related to that word or phrase.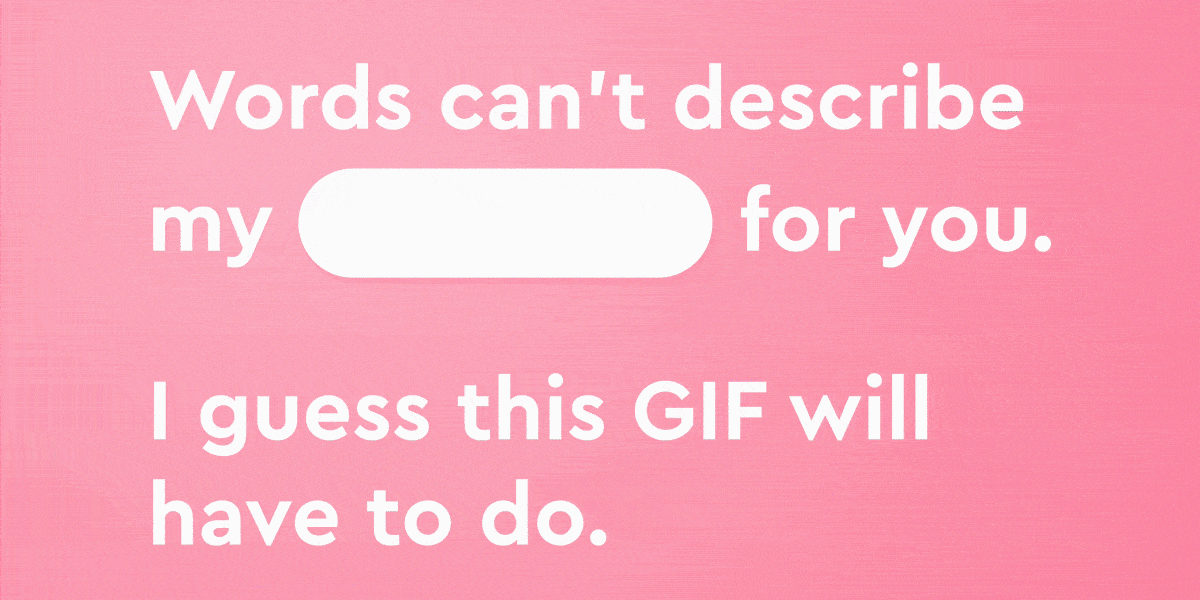 It was received extremely well, with over 1,000 messages sent, making it to the first page of Product Hunt, and people just really having fun sending touching and clever messages to each other. Be sure to check out the mini-documentary video above. It gives you an insider's look into how we design, build, and grow products at Savvy.
Why Did an Agency Work on Its Own...Work?
Agencies like Savvy are in high demand, meaning there is an opportunity cost to do projects like MyGIFValentine. Throughout Savvy's history though, we've set aside time to do our own work. There have been many benefits to doing so, including publicity and revenue generation. While we wouldn't complain about those benefits, there are some other, more significant reasons agencies should take the time to do their own internal work.
Internal Work Fosters Innovation
Whether it's new tech, a new design technique, or trying different marketing approaches, internal work lets Savvy try new things. The first day of the project, we explored a platform we had never used previously. The ultimate solution let us integrate with GIPHY, learning the nuances of their system—including how to get whitelisted for production—and getting connected to their API and marketing teams. We also tried out a new bug capture tool and added in some marketing channels we don't often activate.
Internal Work Reduces Risks for Customers
Because of that innovation, we can actually reduce risks for our customers in future projects. Instead of our customers footing the bill for us to learn about new platforms, new tools, new marketing channels, etc. MGV and work like it allows Savvy do that. Further, we didn't just research those items, we put them through their paces in a full product lifecycle, from inception all the way through launch. That included a high-visibility, high-traffic production launch window, the Valentine's Day holiday.
Internal Work Can Stress Tests Processes
When you're operating in the kind of timeline we did, with many different team members across different skillsets, your process gets stress tested for the good. You can quickly find out what is and what is not working in these conditions. Thankfully, our process as a whole stood up, which is why we launched on time with the success we did. The biggest lesson learned this time around was that we needed to more clearly delineate responsibilities across the team. Normally responsibilities can be shared more but due to the frenetic pace, that wasn't possible.
Internal Work Demonstrates All Capabilities
Savvy enjoys putting our full arsenal of skills on display and internal work lets us do just that. MGV allowed us to do everything from branding, UX, visual design, front and back-end development, and marketing. These are what we call the design, build, and grow disciplines at Savvy. Further, we got to demonstrate our campaign-based marketing and storytelling abilities. Getting over a thousand shares in a single day was no small feat. Telling our story on the MyGIFValentine.com website, social media, and through video, is something very few agencies can do in-house. Many companies can "build stuff" or "market stuff"...few can do both well.
Internal Work Increases Team Camaraderie
One of the goals we had with MGV was to allow for more cross-pollination amongst team members who sometimes don't interact as often. In particular, we wanted our marketing team to get more exposure to our product, design, and dev team members and vice-versa. Coming out of the week, we saw a higher level of appreciation across teams. We also enjoyed giving some new opportunities that certain individual contributors on the team may not have had previously.
Concluding Note
We hope you enjoyed the behind the scenes look into the making of MyGIFValentine. Yes, Valentine's Day is over, but if you haven't yet, give it a look. If you find that your agency isn't doing initiatives like MyGIFValentine, ask them why. Or just get in touch with us...we're quite Savvy.
Join 20,000+ Other Readers
Sign up to be notified of new blog posts and be the first to receive helpful app goodies from Savvy.